| friends | av archive | bairnrhymes | bookcases | buses | calendar | grave | lectures |
| makars | music | panels | prize | roll | schools | sculpture | shows | the arch | theatre |
| walks |

| introduction | central perth | craigie |
Introduction
The William Soutar Perth Walks were officially launched by Provost John Hulbert and Councillor Liz Grant at the Soutar House on 19 November 2007.
The idea of a haik originated with Robert Alan Jamieson, who was the Soutar Writer in Residence from 1993-96. Alan's idea was to identify sites which Soutar had either written about or had referred to in his poetry, and link them together as a walk.
Alan's idea was brought to reality by Ajay Close, the Writer in Residence from 2005-09, who researched and wrote two walks - a 90-minute tour of Perth city centre, and a 2-hour walk round Craigie where Soutar spent most of his life.
The research and production of free guides has been generously sponsored by Perth Guildry Incorporation, the Glover Incorporation, Perth & Kinross Council and Scottish Enterprise Tayside. The guides are available from the A K Bell Library, the Tourist Information Centre and the Fergusson Gallery.
The opening ceremony was held in the room where Soutar had lain bed-ridden for many years. Caroline Beaton hosted the occasion, and Liz Grant, the Convenor of Lifelong Learning, spoke of the walks offering a fresh perspective on familiar landmarks while enhancing the cultural life of the Fair City. Jim Carruthers and Iain Mackintosh read Soutar poems.
The links above illustrate the two walks using online maps, with specific locations indicated by marker pins.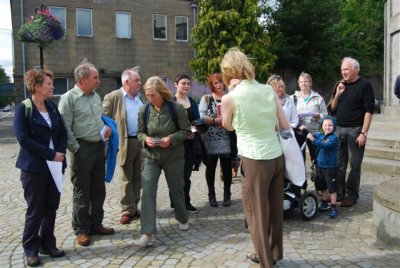 Some of the attendees on the conducted poetry walk, August 2010, pictured beside the Fergusson Gallery.